Although beauty is in the eye of the beholder, we all know there's nothing better than a girl with a fat ass. Tits are amazing, don't get us wrong, but there's just something special about a babe with a bubble butt that jiggles every time she walks. In this list, we're focusing on exactly that, pornstars and their lovely buns.
We form the list based on the pornstar's performance and not the actual size of their backside. Despite there being thousands of pornstars with thick bottoms, not all know how to use it to their advantage. Although we love girls who have a lot of content already out, we won't discriminate against those who started doing porn somewhat recently. If you're looking for a list of booties, whether they're plump or massive, real or fake, you've come to the right place. Have a look at the top 10 pornstars who are known for their phat buns and let us know what you think!
10. Savannah Bond
Savannah Bond is an Australian PAWG who knows the weakness of every man is a fat ass. Doing squats all her life has done wonders to her body, and when she was in her late 30s she decided it was time to put that ass to good work. On top of her perfect bubble butt, this chick has a perfect hourglass-shaped figure that garnered her a huge following from the moment she debuted in 2019.
Rather than waste time with solo scenes and vanilla content, Savannah Bond started straight with anal, as she knew what her strengths are. After filming her first anal double penetration scene for Jules Jordan, top studios couldn't wait to get their hands on the talented performer. Although she's not yet a veteran in adult entertainment, she's managed to film over 200 scenes throughout the few years she's been a pornstar. If you're a fan of white girls with juicy asses, Savannah's got just what you need!
9. Alexis Texas
If you like big white asses there's no way you haven't seen Alexis Texas and her juicy booty. Back in 2007 when she was only 22, she dipped her toes in porn and has been loving life ever since. There's a reason why she's popular in 2023 as well, considering she's amassed a library of over 900 scenes she's been a part of. This blonde Texan hottie started off as a young babe and now has the status of a milf that's still making phenomenal porn.
Instead of starting off easy, Alexis entered porn with one goal in mind, to mesmerize viewers with her juicy booty. Just in her first year of filming, she's done over 90 scenes, but it's only in 2019 that she tried anal. Unfortunately, she doesn't do much of it, even though her tush is perfect for it. Even though she hasn't done much anal, there are loads of spicy videos of her to watch. Whether you're into threesomes or lesbians, there are plenty of scenes with her phat ass covering half of the screen.
8. Ryan Conner
Ryan Conner is a naughty milf with a fat ass that deserves a lot of respect. Her career began before most new pornstars were born, back in 1999 when she was around 28. She hasn't starred in movies for over two decades though, as she's had to take a break from the spotlight between 2011 and 2014. Although fans were devastated, they knew she'd make a return and they'd get to see her juicy bum in action once more.
Despite her debut being in 1999, she started taking porn seriously a year later when her first two scenes were lesbian and anal. The moment her plump ass got penetrated on camera, she knew that the fans would be aching for more. She believes in quality over quantity, which is why she's been in only 378 scenes so far. Whatever clip you click on, if Ryan Conner is in it, expect to see phenomenal performances and her juicy tush being railed and creampied during double penetration.
7. Dani Daniels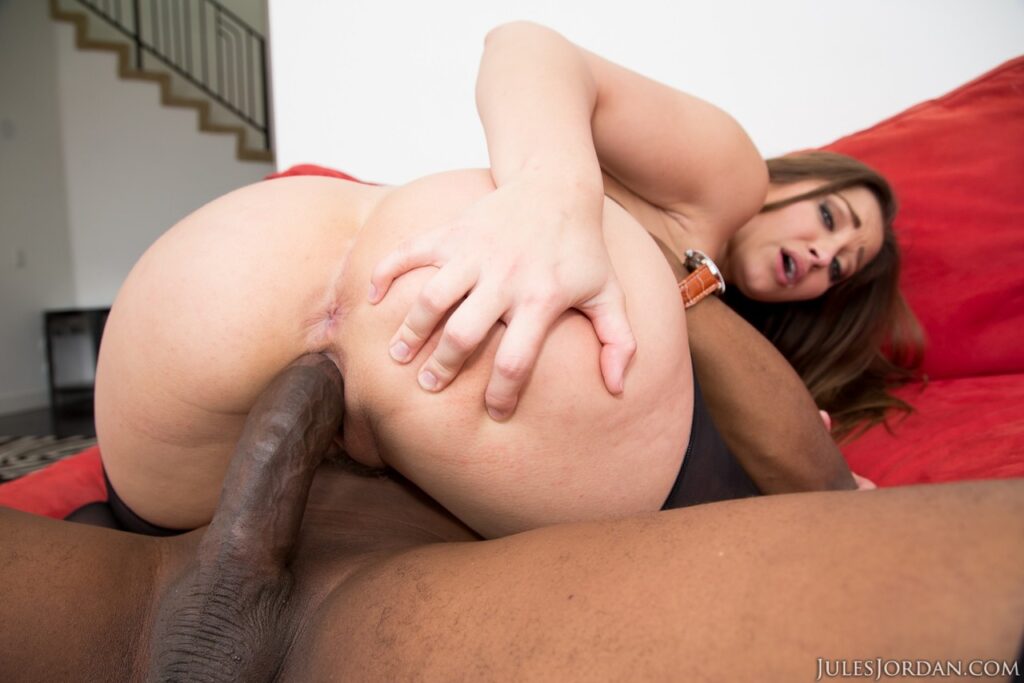 For lesbian lovers worldwide, the name Dani Daniels should most certainly ring a bell. In the year 2010, the young Dani was only 21 and eager to try out her luck in adult entertainment. Thanks to her bubbly personality and gorgeous body, she had no problems finding studios that wanted to work with her. Since then she's worked her big butt off and filmed over 900 scenes with pure joy.
Despite looking delightful, Dani Daniels was somewhat shy in the beginning. For the first two years, she focused on nonpenetrative sex with men and a lot of lesbian and solo scenes. In 2012, the famous Manuel Ferarra had the chance to pound her tight pussy and watch her fat booty jiggle. From then on she became more open to the idea and made various creampie, threesome, and interracial scenes. The only anal she's done was with women, and her booty looked marvelous in the videos.
6. Mandy Muse
Back in 2013 when Mandy Muse was only 19, she knew her teen ass was special. Not only was it fat and juicy, but the rest of her body beautifully complimented it. Being the naughty chick that she is, she accepted the first porn shoot she was ever offered with excitement. Once it was done, she knew that porn was her true calling, and even to this day, she's still in the business with over 370 scenes under her belt.
Although she might seem shy, Mandy Muse knew that her booty is the star of the show and didn't mind using it to her advantage. For her first debut in 2013, PervCity had the talented Mike Adriano, and his thick cock gave her bum a good pounding. That first experience flipped a switch in her, and she started to crave wilder sex acts. It wasn't long after that she started doing double penetration, anal creampies, and hardcore ass-to-mouth. If you're looking for a wild PAWG who loves bouncing on a dick, then this is just the girl you need.
5. Annika Albrite
The beautiful blonde hair and mesmerizing eyes aren't the only things that make Annika Albrite such a hottie. For those who've searched for PAWGs, there's almost no way you haven't come across the big booty Annika. She started her career in 2011 at the age of 23 and is going strong to this day. For some reason, her Wikipedia page mentions that she's retired, but that's not the case at all, as she's getting her tush pummeled on camera for our entertainment to this day.
With over 740 scenes in her portfolio, expect to see her gorgeous body used in any position imaginable. Despite having an ass made for anal, it took her 2 years to do her first ass fucking scene. Previously she has done some lesbian analingus and solo anal toy scenes, but in 2013 her bum got railed by Mike Adriano who awakened her anal cravings. She's married to the popular pornstar Mick Blue, and they've even shot a lot of great scenes together as well which you should definitely check out.
4. Jada Stevens
Jada Stevens is a naughty pornstar with a big white ass that everyone loves. It would be surprising if someone hasn't heard of her name, as she's done over 650 scenes where her curvy body was on full display. In 2008 when she was only 20 years old, Jada finally gained enough courage to step foot onto a porn set. Despite being nervous, she loved the attention her fat booty was getting and soon started to crave more.
Her first scene didn't focus much on her big bottom, but luckily the studio BangBros saw her and immediately knew what they wanted her to do. After filming her first ass-to-mouth and hardcore anal scene, the audience fell in love with her jiggly phat bum. Since then she's lived an amazing life, made her own porn studio, and even became a certified milf when she gave birth to her child. Throughout the years she's done everything imaginable, but nowadays she's mostly focused on lesbian scenes which include anal toys.
3. Julianna Vega
Adult entertainment has a wide array of big asses to choose from, so the top three pornstars with juicy bums vary from person to person. Julianna Vega takes the number three spot on this list for the simple fact that her ass is the best in the industry. This curvy Cuban milf who started her career at the age of 33 in 2014 is the epitome of perfection. The only reason she's not higher up is that she doesn't do anal and only has 74 official scenes.
It might seem crazy to put someone with such a small pool of content and variety at number 3, but you have to see booty to understand it. Since she's spent a decade stripping and shaking her bum, her body has been perfectly molded for porn. Although she's got a massive tush, it's not too big to the point of not even being able to see her little butthole. Words can't really describe how good this chick takes dick and how sexy she looks, so before making a judgment check out her scenes.
2. Sarah Vandella
The number two spot goes to none other than Sarah Vandella and her perfect booty. To say she's a veteran would be an understatement since she's done over 1000 scenes in her naughty career. In 2007 when Sarah was 24 years old, she knew that her luscious body was rare and that it would be amazing in porn. Besides her beautiful face and astonishing figure, her thick bum is what garnered the attention of porn studios and viewers worldwide.
Despite having a phat tush, Sarah Vandella didn't start off her career with anal. After her debut in a lesbian scene for Brazzers Network, everyone was eagerly anticipating her ass-plowing scene. In 2009, two years after her career began, James Deen was the man whose thick cock got to stretch out her ass on camera for the first time. Despite not having an ass as big as the previously mentioned pornstars, Sarah's bum deserves the second spot due to the fact that it suits her body type.
1. Lela Star
The undeniable victor in the list of best pornstar asses is the raunchy Cuban babe Lela Star. To the majority, this will be no surprise since her booty has been in the industry since 2006. Her career began when she was 21 but now she's come to an age where she can easily be considered a spicy milf. No matter how many new bubble butts enter the industry, none will be as gorgeous as Lela's.
Since a body like Lela Star's is very rare, she does her best to keep it in phenomenal shape. There are 350+ scenes of her plump booty being used by men and women. Her content is very versatile, which gives everyone a chance to enjoy the view of her ass in various scenarios. Whether you're into lesbians, anal, creampies, swallowing, or squirting, Lela's there to satisfy your fantasies. If by any chance you've never seen her ass in action, mentally prepare yourself to see the greatest tush in porn.

Now that we're done with the list it's your time to decide which hottie you're going to be searching up first. Do you think we missed out on some great pornstars? Comment down below and let us know your thoughts on which pornstar has the best ass in the industry.