Even though interracial porn could encompass a large spectrum of races, the most common videos you'll find are of white girls with BBCs. No matter what website you're on, you'll always come across scenes with beautiful pornstars and amateurs that adore interracial sex. There are so many videos in fact that we've decided to create a list that focuses solely on snow bunnies that are mesmerized by black men and their huge schlongs.
When forming the list we primarily focused on pornstars who are mostly known for working with BBCs. Of course, they're ranked based on a number of factors such as their overall appearance and performance, but the main thing we look for are lustful white babes that are obsessed with black dicks. If you're interested in finding the best bbc porn stars in the industry, you've come to the right place. Enjoy!
10. Eliza Ibarra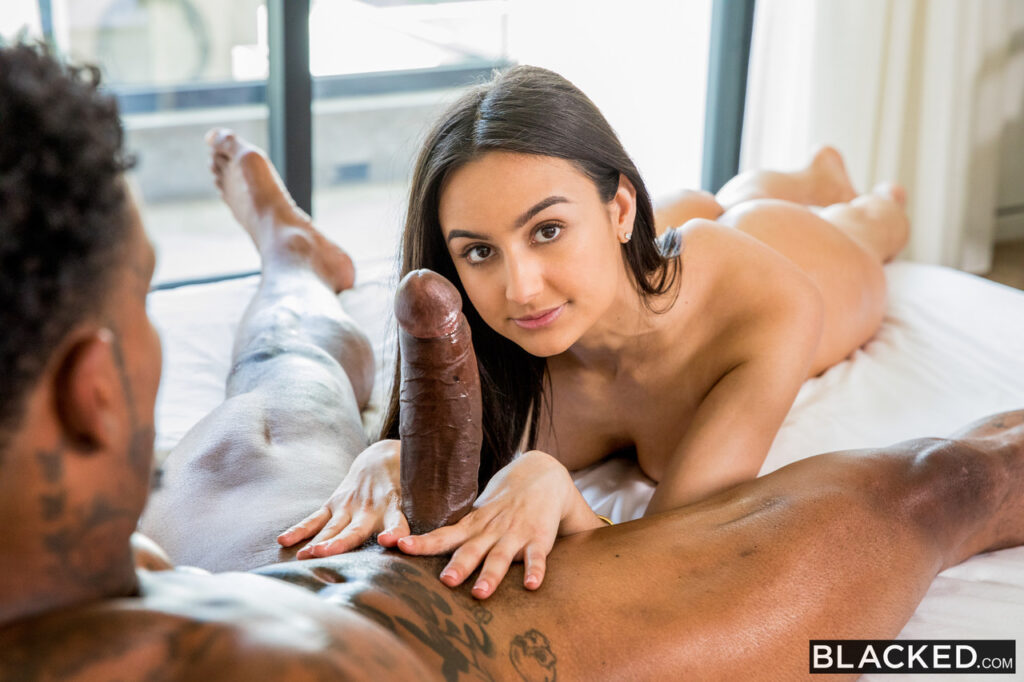 There's not a better pornstar to start off the list with than the adorable babe Eliza Ibarra. For any fan of interracial porn, her name will be very familiar. Her career began in 2018 when she was 21 years old and in the few years she's been shooting, she managed to complete 515 incredible scenes. Even though the majority of the content she's in isn't interracial, a good chunk of them are and they're absolutely stunning.
The first few scenes Eliza starred in were great, but things took a turn for the better when the studio Zero Tolerance came in contact with her. That was the first time she was paired up with a BBC and fans could see the passion in her eyes through their screens. Since then she's done solo, lesbian, and anal scenes and even though they're good, she'll always be best when her shoots involve thick black cocks.
9. Lika Star
Lika Star is a beautiful white BBC slut who is obsessed with anal and BBCs. In 2017 when she was around 20 years old, she mustered up the courage to step foot into adult entertainment. Since then she hasn't looked back at the choice she made as she's made over 210 scenes and doesn't plan on stopping anytime soon. Her portfolio of interracial porn is somewhat smaller than other pornstars, but it's obvious she wants to continue working with black men, which can be seen in her newest Blacked scene in 2023.
Despite being a petite white chick, the only time Lika's fully satisfied is when her beautiful body's being used. Within the first few scenes she starred in, fans fell in love with how lustful the sweet babe was becoming, especially when she started doing anal. The very same year her career began she had the opportunity to film interracial porn and everyone was stunned at how great she performed. If you're looking for a hottie with a small frame that adores BBCs, Lika Star is the one you're after.
8. Kyler Quinn
The next Interracial Pornstar on our list is the adorable and petite Kyler Quinn. Her journey in the industry began in 2018 at the age of 20 when she starred in a few spicy videos before getting booked for an interracial scene. Throughout her career, she was featured in 475+ scenes, out of which a nice amount involved her cute body being railed by her black co-stars.
The thing that separates her from the rest on the list is that she does porn out of passion and excitement, not for fame. She has plans on finishing her veterinary degree, but in the meantime, she adores showing off her flexible body on camera and riding black cocks. Since Kyler's truly passionate about porn, it's very easy to get immersed in her performances as they feel intimate and real. On top of interracial she also loves starring in lesbian, anal, and creampie scenes, so keep an eye out for her new spicy content.
7. Emily Willis
Unless you've been living without an internet connection for the past few years, you know the name Emily Willis pretty well. At only 19 years old she made her debut and since 2017 she's made over 690 scenes that are packed with hardcore sex and big black cocks. She doesn't focus on one specific porn category, so when she's not getting pounded by BBCs she might be having lesbian, anal, or creampie scenes.
If you love Latina pornstars like Emily Willis, check out  10 of the Sexiest Latina Pornstars of 2023
Although her career technically started in 2017, she really blew up a year later when she worked hard and produced loads of scenes, including her first interracial one. She's mostly known for having a gorgeous body and being open to anything. The interracial anal threesome she starred in for Blacked in 2020 garnered her a huge following thanks to her phenomenal performance. Even to this day she's keeping up with her black co-stars but is also doing lesbian and trans porn as well.
6. Elsa Jean
Elsa Jean is a stunning petite white girl who became an instant success the moment she enter adult entertainment in 2015. When Elsa was only 19 she decided that her lustful nature is best suited for porn and she was more than right, considering she starred in over 730 scenes since then. Thanks to her pure and innocent looks, she had no issues filming for one of the top studios in the scene the moment she began.
While some pornstars like to begin with smaller solo roles or lesbian videos, Elsa made her debut with a bang. The very second scene she did was an interracial creampie, which made her an overnight sensation amongst interracial porn lovers. It would take her five years to make the leap to doing anal scenes, but sadly her mainstream career came to an end in 2022. Luckily, she still makes content with her past co-workers, and there's always a chance she'll return to the big studios and get pummeled by more BBCs.
5. Abella Danger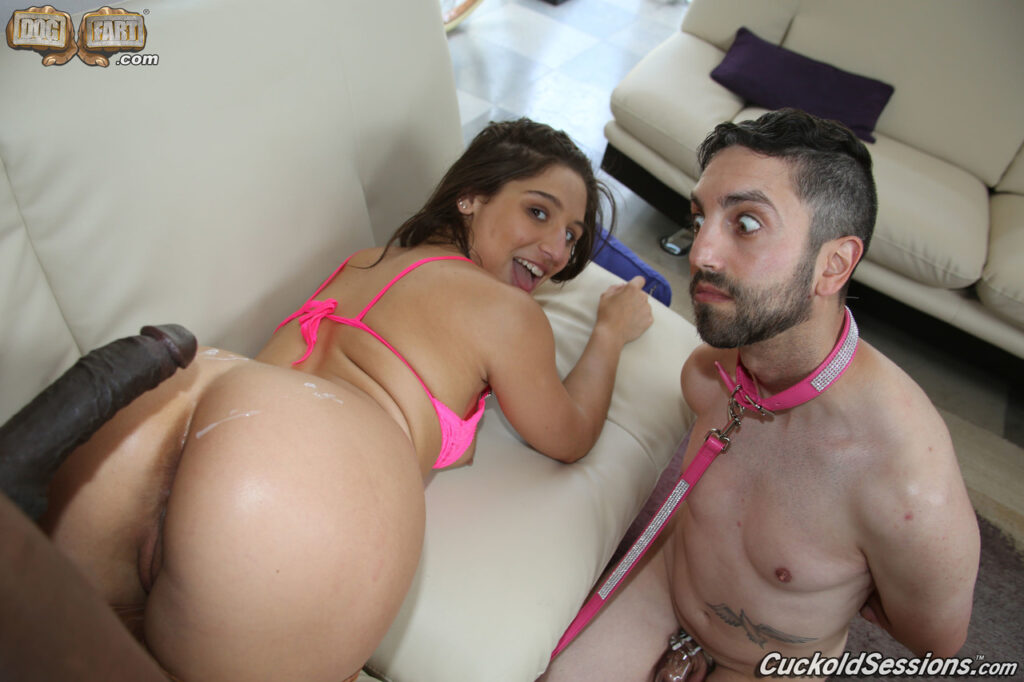 Abella Danger is another hottie who started off as a teen in 2014 when she was only 19 years old, but her portfolio is leagues above the competition. Thanks to her perfect white bubble butt, top studios like Bang Productions, Evil Angel, and Blacked were eager to help her start off her career. After she made her debut in a FFM threesome, she was contacted by major companies with whom she works to this day and is looking to expand the number of scenes she stars in, which at this moment are at a whopping 1371.
The very moment Abella Danger made the leap to porn, the audience knew her big white booty would be best suited for BBCs. After filming a lesbian, creampie, and threesome scene, she took on her first BBC for the studio Blacked and loved every second of it. The very same year she did anal which she loved so much that she's still focusing on anal scenes to this day. It was hard putting this pornstar only at number 5, but after seeing the next four you'll understand why.
4. Whitney Wright
Whitney Wright always knew she had a booty for porn, and she put it to good use when her career in adult entertainment began back in 2016. Since she was 25 years old at that time, she's already been experimenting sexually with loads of men, unlike her teen co-stars who hadn't had lots of experience. On top of having a perfect body, her performances are one of the best in the industry, and there are 780+ to choose from.
Although Whitney Wright made her debut in 2016, it wasn't until 2017 that she had her first taste of a BBC on camera. Rather than have on black guy pound her for the first time, she preferred to have to do double penetration as well. She's done loads of anal scenes beforehand, so her juicy butt was prepared to take their thick shafts with ease. In recent years she loves filming with lesbians, but it's not uncommon to see her take it up the ass, so keep track of her new content if you want to see more.
3. Lena Paul
Now that we've come to the top three interracial pornstars, keep in mind that this list is based mainly on white babes who show true passion when filming with BBCs. The beautiful Lena Paul is a perfect candidate for the number three spot. This PAWG made her debut when she was 23 years old in 2016, and her luscious body has starred in 590+ scenes to this day. Although her juicy tits and fat bum are amazing, it's the look in her eyes that she has when filming interracial porn that mesmerizes everyone.
In her first year of filming, Lena Paul did amazing scenes with big studios such as Naughty America, Brazzers Network, Reality Kings, Evil Angel, and eventually Blacked. Despite it being her first year, she filmed over 30 scenes that were packed with lesbian scenarios, interracial threesomes, anal, and hardcore double penetration. From then on she continued starring in amazing videos and is still shooting to this day, so if you haven't seen her content, make sure to give this PAWG a try.
2. Lauren Phillips
After years of stripping professionally and being a camgirl, Lauren Phillips finally had the chance to film her first ever adult video in 2013 at the age of 26. That turned out to be one of the best decisions she's made, as she's gone on to make 780+ videos that are packed with anal, BBCs, and gangbang scenes. Even now that she's at the age of a milf she's kept her body in astounding shape and is continuing to make great porn.
Finding a white girl with a perfect body might not be hard, but finding one that knows how to use it is. Lauren Phillips showcased her amazing performances straight from the first scene she did with Mofos, which included intense ass-pounding and flexible positions. Three years after starting her career she filmed the first interracial scene and it was an absolute hit! Throughout her career, she became a master in bondage and blowbangs and she even made it on the New Zealand cover of Playboy in October of 2021 thanks to her beautiful figure.
1. Angela White
Hands down, the title for the best interracial pornstar goes to the one and only Angela White. This milf and her natural big tits have been viewed in 1000+ scenes, out of which a great portion includes BBCs. Although this Australian hottie is a milf, her career began back in 2003 when she was still a teen. Thanks to her curvy white body she quickly gained the title of "Australia's most well know adult performer" in 2014. Two decades after her debut, she's still performing and directing phenomenal porn for her own studio and others as well.
If we were to talk about all of her achievements we would stay here all day. The most important reason why she earns the number one spot in the list is the love she shows to black cocks. Although she doesn't discriminate as to what ethnicity her partner is, her performances make it obvious that she's obsessed with BBCs. On top of loving interracial porn, she also does everything, from anal gangbangs and double penetration to sensual lesbian and solo videos. If somehow you haven't seen this beauty in action, we highly recommend you take a look at Angela's amazing scenes.

There we go! The list is over and you can finally head on out there and watch the best interracial porn of your life. If you have any suggestions or if we missed some naughty snow bunny that you think should have been on the list, make sure to let us know, we're always looking to expand our porn knowledge.